I put this here because it's new to me, and I'm drunk with power!
[EDIT: And I just found out it's actually virtually
identical
to the Triumph T120. See further comment for details.]
Behold:
the Brixton Cromwell 1200
Brixton being a notoriously rough, under-privileged corner of London, and Oliver Cromwell having been the man to lead the Glorious Revolution, overthrowing and
executing
the King of England. A guy who was such a rebel, when the monarchy was back, they exhumed him - just so they could execute him, put the noose on his skeleton.
So the bike is, of course...
from China!
Brixton being a brand of Gaokin Motors, and what you see here is the
2022
model.
I must suspect that the names, for the brand
and
for the model, were chosen by people who maintain some of the old Chinese revolutionary attitude.
Here is the English website:
https://www.brixton-motorcycles.com/mod ... well-1200/
And while some Gaokin engines end up in Geely bikes, this is not one of those.
Check the specs:
1222cc
Water cooled
83 hp @ 6,550 rpm
80 ft.lbs. @ 3,100 rpm
270° crank
6-speed tranny
235 kg / 518 lbs. (no mention wet or dry, but I suspect wet)
400 kg / 882 lbs. max allowable
123 mph tops.
Max torque at 3,100 rpm!
Even the Harley Street 750 wants four grand to get all the torques!
Having only ever ridden the latter around the Cross Keys parking lot, I still found that the first gear on that bike seemed
utterly
superfluous.
Seeing how Brit bikes of old were lauded for the bottom ends with the torques (and their vibrations), I'm not all that upset about them trying to make themselves look and sound British.
And the Cromwell, it appears,
really
is not just a China Junk
Scoot
Bike.
Check the
features
:
Mahle pistons

Anti-Hopping clutch

Ride by wire (electric throttle)

Traction control

Bosch ABS system

Anti-theft key system (??)

2 drive modes: ECO and Sport

Cruise Control

Nissin Brake system

KYB (Kayaba) shocks

all-stainless exhaust system
I'm sure
electric throttle
is supposed to be
electronic throttle
. While
Anti-theft key system
sounds a lot like, well. Keys. And a lock.
But besides that. They are selling it in Europe, so I'm pretty sure Mahle and Bosch would have some notes about misusing their brand names. Nor can I imagine Nissin or KYB to appreciate such.
Price over here is €11k.
The cruise control is mentioned kinda
btw
in the description, not in standard equipment, so I wouldn't be surprised if it's an option.
The
2 drive modes
business sounds interesting. Eco for when you're about to run out of gas, and Sport for when you're not. Either the commodity ECU does that out of the box and only needed a few variables set, or someone at Gaokin paid attention!
This at least looks like the real deal, doesn't it.
All the most safety-relevant bits are imported from Japan and potato (brakes, shocks, ABS). And whatever causes that engine to fail, it probably won't be the pistons. Nor would it be in the first 2 years (such warranty on motor vehicles is legally mandated in Europe).
Even the instrument "cluster" is not just some sad old LCD, nor pretty clocks. But a TFT that looks like a clock! Showing the idiot lights on in a promo photo is some big-dick energy.
I wonder. And this isn't just the anti-royalist Cromwell-fanboy in me speaking.
Are we at a Japan moment?
I mean the late 60s, early 70s. Up till then, Japanese motorcycles had been seen as and treated like either
small things for kids
, or
total rip-offs of European and British models
. Basically "pathetic". Where, in retrospect, we can substitute "pathetic" with
significantly improved build quality and mechanics.
Japan wasn't making "real bikes", or wasn't "really making bikes". Not good bikes, at least.
And then came the Honda CB450, and the CB750, and Yam with the XS650, and so on and before you know it, Japan had ruled the roost.
The motoring press here
is speculating if the
Gaokin GK1000 Thor
will be offered in Europe as a Brixton.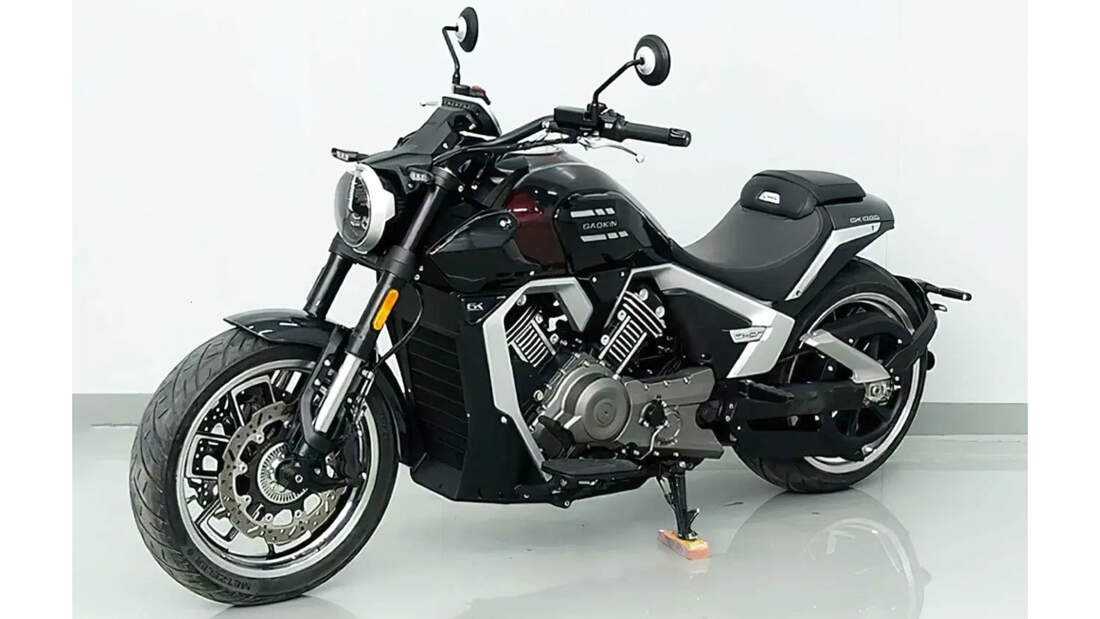 Kilo v-twin, the aluminium frame gives it a weight of "only" 593 lbs.
94 hp @ 7,600 rpm
75 ft.lbs. @ 6,500 rpm
The
Cromwell
model name is also applied to a 125 and 250 respectively. Besides
Cromwell
, Brixton doesn't appear to have any other models. I like the idea of the line up. An entry level bike (125s are legal for 16 year olds here, provided they get the license, anything bigger gotta be 18), a small, lightweight machine (described as
THE TWO FIFTY CALIBRE BULLET
) for people who are entirely happy with 17 hp and a revvie 12.1 ft.lbs..
Then
nothing nothing nothing
HUGE TORQUE MONSTER
.